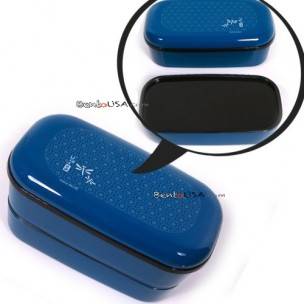 Authentic Japanese Bento Box Lunch Box Designer Blue
Customers who bought this product also bought...
Authentic Japanese Bento Box Lunch Box Designer Blue
This is a traditional bento lunch box from Japan, microwavable without lids. The Bento lunch box has three tiers. The bottom tier holds 250 ml (about 1.2 bowls of rice), the second tier holds 330 ml and the top tier is for chopsticks, or a fork. The Bento lunch box is microwave safe with the lids off. The bento box is 6.29 inches long, 3.5 inches high and 3 inches wide.
This is a 5 piece Bento Lunch Box, blue color.
Bento Lunch Box Material
- Main Bento container = Polypropylene
- Outer Lid = Styrol
- Inner Lid = Polystyrene

Imported from Japan
Made in China
Please check out our Bento Accessory section for our bento strap to hold the bento box pieces together
| From | Title | Comment |
| --- | --- | --- |
| 04/18/2010 Emily K. | | I love this bento! It is the perfect size. I am not a fan of dragonflies, so I covered them up with some neat stickers. I take my box everywhere. |
Only registered users can post a new comment.