30 other products in the same category:
Customers who bought this product also bought...
Microwavable Airtight Bento Lunch Box set with 4 Removal Compartments
Bag Color - Solid Black
This is a high quality Bento lunch Box Set. The bento box is well designed, great for kids, men to seniors. This set includes 2 bento lunch boxes (Total of 1600 ml or 6.7 cups) and 1 insulated bento lunch bag in black. The bento box features silicone air tight clasps to keep the bento perfectly close and keep food fresh. It also comes with the bento box removal dividers to create the portions of your food. The bento box is microwave safe, dishwasher safe, and freezer safe.
This set also includes a insulated bento bag in solid black color, great color for men or teen. The bag helps keep temperature of your food longer, making a great meal for you and your family. The bag has 2-section velcro-closed external pouch and a small inside netted pouch to hold other small items Bag can accommodate either 1 or 2 bento lunch boxes depending on your daily lunch need.
This set includes
- 2 High Quality and Sturdy Bento Lunch Boxes
(Each bento box includes 2 removal compartments, making total of 4 compartments)
(800 ml each, making total of 1600 ml or 6.7 cups)
(Each bento lunch box measures 8 x 5.25 x 2 inches)
- 1 Thermal Insulated Bento Lunch Bag
Hand Washable (Size - 8 inches wide x 5.5 inches deep x 7 inches high)
Bento Lunch Box Feature
- Durable and Sturdy high quality plastic bento lunch box
- Easy to Use with full perimeter locking action, which is very quick and easy, even for kids to seniors (5-75 years old)
- Absolutely air tight with Silicone feature
- Liquid Tight
- Stackable
- Perfect Seal (the precious food you keep inside will remain fresher a lot longer)
- Freezer Safe
- Microwave Safe for reheating purpose It is microwavable straight from the freezer.
- Dishwasher Safe
- Removal Food Dividers
- Made in China
Bento Lunch Bag Feature
- Insulating material helps keep temperature, warm or cool, for longer
- Solid black color, great color for men
- Built-in Holder, easy to carry
- Easy to use with Zipper design
- 2-section velcro-closed external pouch for extra storage
- netted internal pouch for small items
Material
Bento Lunch Boxes (Food Containers) - Polypropylene (P.P),
Lunch Bag- Polyester, PP, Velcro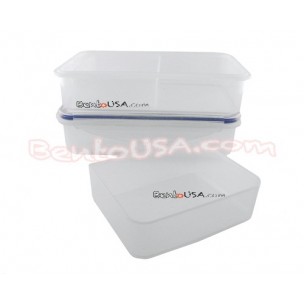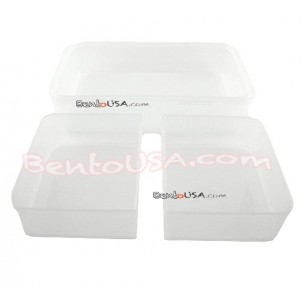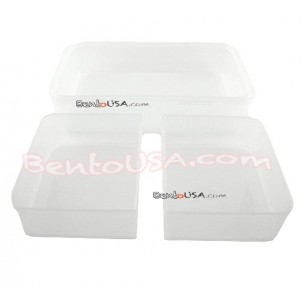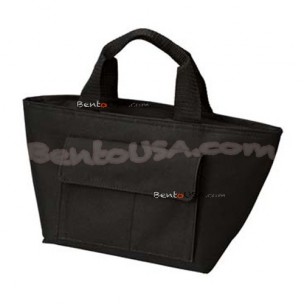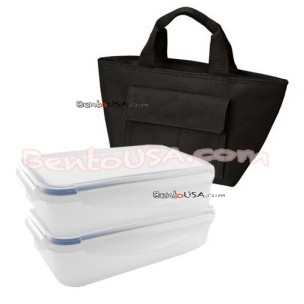 Instruction for Bento Lunch Box
1. When using the microwave, be sure to keep all of the locks of the bento box open.
2. Store food in a container after food has cooled off.
3. After microwaved, be careful especially when you open a container containing hot food to avoid burns.
3. Never store alcohol, benzene, gasoline, oil, or other volatile or flammable chemicals in your containers.Lock & Lock
No customer comments for the moment.
Only registered users can post a new comment.